Our Strategy
INNOVATION
We understand the current context and develop projects that contribute quality and value. We look for strategic locations to be ahead of the market trends and obtain high yields in all our developments.
DIVERSIFICATION
We settle the income flow of the real estate market cycles thanks to a schedule of diversified income, which gives us autonomy and freedom of action.
REPLICATION
With developments in Uruguay, Paraguay, Argentina and the U.S., we value the generation of alliances with strategic partners in each country. We have a regional support structure for the centralized and integrated management of the local operations in the different territories.
SOCIAL RESPONSIBILITY
We are highly committed to the social context and the environment. On developing our projects, we prioritize achieving a positive impact, which promotes a conscious lifestyle and contributes to sustainable economic growth and the efficient use of resources.
ORGANIZATIONAL AGILITY
We have an international, highly professional, result-oriented team. Together with a network of qualified, specialized suppliers, we achieve the necessary agility to understand and face each local market's competitive context, and in this way we close profitable businesses at low risk in strategic countries.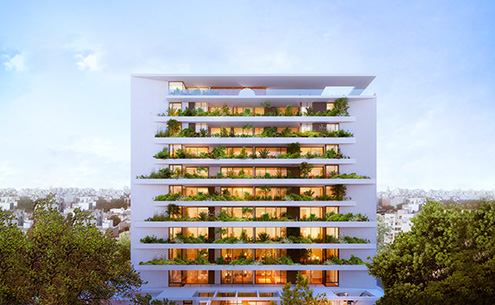 Our commitment
We create projects in strategic locations, meeting the demands of the current market, combining design, sustainability and technology to create spaces that connect our clients with a better life-quality-
Contamos con un equipo único de profesionales.
Con el foco puesto en cumplir y superar los objetivos de un mercado inmobiliario dinámico y exigente. Compromiso, dedicación y resultados.
Click on the link to schedule a meeting with our advisors. You will be directed to Calendly in order to choose the date and time of your preference.
Schedule a meeting